Quality Used, Cheap Factory/OEM Steering Columns in stock here at

Used Car & Truck Parts Unlimited

Unsurpassed Customer Service with a 90 Day Warranty, Fast Delivery, We Have Most Year, Make & Models
give one of our qualified parts representatives an opportunity to make you smile!!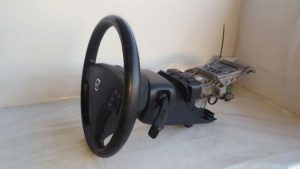 Volvo Steering Columns can be a pain to find in the right condition, and with key, but with used Car & Truck Parts Unlimited it's a breeze by comparison! With our massive national inventory of used steering columns, finding the specific one you need for your vehicle should be no problem whatsoever. Just like with almost all our parts we offer a 90 day parts only warranty on all our steering columns, promising that if the steering column you receive is not in working order we will pay to have it shipped back ourselves and either send you out a better quality steering column or simply refund your money entirely, depending on what you want to do.
We have many different warehouses around the USA & Canada that we ship out of…it just depends on where the vehicle was broken down at and what warehouse it was put up into… so chances are we will have something we can get to you within 5 to 9 business days.
Please let us know if we can help you find anything, we are always happy to help!
PayPal or Credit Card used as Form of Payment